Myallocator has a number of display options to help you filter the way you view your availability and room inventory. While the default settings work great for many users, there's a lot of alternative layouts you can choose based on what works best for your property. 

To access the display options, click on the gear icon in the left hand corner of the menu.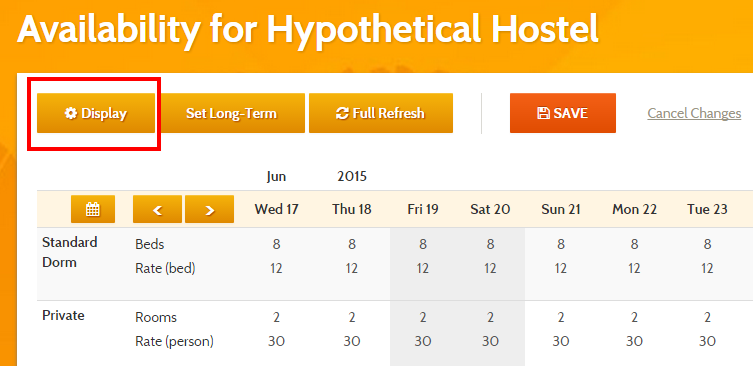 This will open the display options menu. From here, you have a number of options.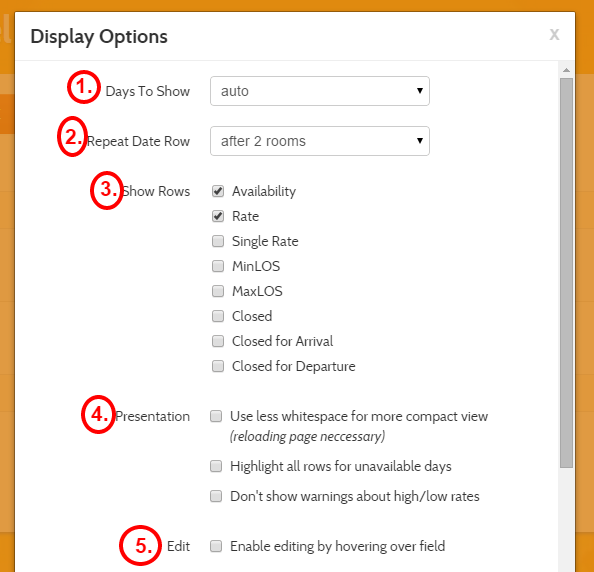 Types of Display Options:
1. Days To Show:  This allows you to select how many days you would like to view at one time. While there is the option for up to 70, this is generally not recommended as it can stretch your screen. The "auto" setting, which is default, will fit itself to the window size you are viewing the page from. 
2. Repeat Date Row: If you have a large number of rooms and would like the calendar dates easily accessible, you can change this setting here. The default date row is normally 20, but many people do change this.
3. Show Rows: This gives you the option of including various data in your availability view depending on the specifics of your property. We start you off with Availability and Rate, which we recommend you don't remove. Please keep in mind that not all channels support all of these features. For a list of which channels offer which features, click here. 
Here is a quick explanation of each one:
Availability: The number of rooms that can still be booked.
Rate: The price set for a customer to book accommodation.
Single Rate:  The price for your room when only one person books it.
MinLOS: The minimum length of stay required.
MaxLOS: The max length of stay required.
Closed: Whether or not you have completely closed the room to bookings.
Closed for Arrival: Whether to stop reservations from beginning on this date.
Closed for Departure: Whether to stop reservations from ending on this date.
4. Presentation:

Use less whitespace for more compact view: Shrinks font size and also removes a lot of spacing from the availability table. This allows for more date's information in the same space. Many users decide not to use this because of how cluttered it can make the page seem. Note: If chosen, you will need to reload the page to see the difference. Do not do this if you are in the middle of changing any settings as you will lose any information you have not saved.
Highlight all rows for unavailable days
Don't show warnings about high/low rates: This will stop myallocator from warning you if a rate has been set at an abnormal amount. This is a safeguard to help avoid accidentally setting the wrong rate, so disabling it is not recommended. 
5. Edit:
Enable editing by hovering over field: Useful if you need to update a lot of data very quickly. We only recommend this for users already familiar with our system. Be careful while having this feature enabled because it is very easy to accidentally change your availability and rates.
6. Highlighted Weekdays: Used to choose what days of the week to highlight in grey. This is set by default to Friday and Saturday as they are typically high occupancy days for many businesses. 
When you have finished with these settings, be sure to click the red "SET" button in the bottom right hand corner to save your changes.